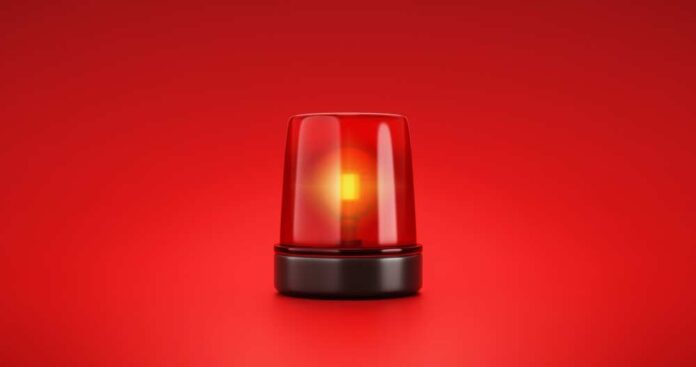 (ReclaimingAmerica.net) – In an equally sickening and appalling turn of events, downtown New York City, the site of the monstrous 9/11 terrorist attacks carried out by Islamic extremists, has now seen rioting by far-left supporters of Islamist terrorism who set fires and clashed with police while staging a mass anti-Semitic rally.
(see the videos below)
On Saturday night, a large anti-Israel protest called "Flood Brooklyn for Palestine" took place in Bay Ridge, leading to confrontations with the police, The New York Post reports.
The rally comes after, on October 7, the Palestinian Islamist terrorist groups Hamas and Islamic Jihad invaded Israel from the Gaza Strip, killing over 1,400 people, including 30 Americans.
Social media videos of the NYC rioting show a disorderly situation, with protesters blocking traffic, yelling at police officers, and lighting street fires.
When the New York Police Department (NYPD) tried to disperse the crowd at 72nd Street and Fifth Avenue, they met resistance.
The police started to pull people from the crowd, including from a pickup truck filled with protesters waving Palestinian flags.
"It got pretty heated," a law enforcement source commented.
A scene unfolded where a young teenager tried to assist an older woman holding a sign that read, "Zionism is Genocide." Two police officers were pulling her. Some in the crowd threw eggs at the officers.
The protesters created small fires and chanted around them. The NYPD reported taking about two dozen individuals into custody during the event.
However, whether these individuals were formally arrested or just given citations was unclear.
The protest began earlier that day in one of New York City's largest Arab and Middle Eastern communities.
"We are calling for full liberation of all of Palestine . . . to every single inch, from river to the sea," one protester shouted.
This phrase has been associated with Hamas and its supporters.
"We are not like other groups simply calling for a cease-fire. We are calling not simply for an end to genocide. We are calling for an end to the siege, an end to the blockade. An end to the occupation," said another rioter wearing a t-shirt from the group "Within Our Lifetime."
On Friday, police in Manhattan arrested 139 pro-Palestinian protesters from the Democratic Socialists of America for blocking traffic.
🚨#UPDATE: A total of 20 protesters were arrested by the NYPD during today's Free Palestine March, as thousands of demonstrators gathered in Brooklyn, later setting flags and trash cans on fire pic.twitter.com/GyAYroagCx

— R A W S A L E R T S (@rawsalerts) October 22, 2023