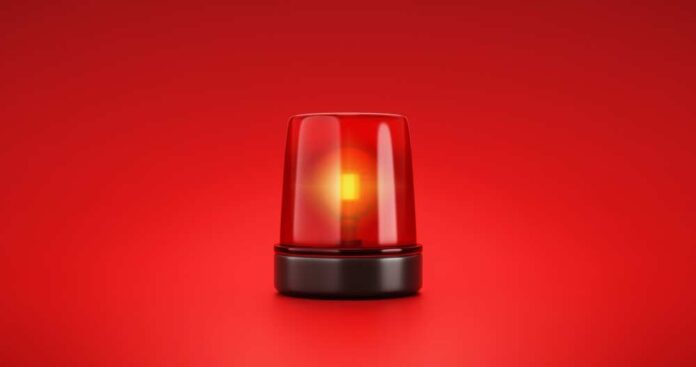 (ReclaimingAmerica.net) – Despite hopes the radical left's constant crimes won't go unpunished, far-left US Rep. Jamaal Bowman has been charged for recently activating a House building fire alarm disrupting a vote – but seems to be getting off lightly, only with a fine under a misdemeanor plea deal.
On September 30, Bowman (D-NY), a far-left "Squad" member, was caught on security footage starting a fire alarm ahead of a crucial vote to prevent a government shutdown.
On Wednesday, the radical leftist was charged with the false activation of a fire alarm on Wednesday, a misdemeanor, with his arraignment scheduled for Thursday morning, Fox News reports.
An arrest warrant issued by Joseph McAtee, a Supervisory Special Agent with the US Capitol Police, documents that on September 30 at 12:05 p.m., a fire alarm was reported as having been triggered on the second floor of the Cannon House Office Building.
"There is] probable cause to believe that the defendant willfully or knowingly gave a false fire alarm within the District of Columbia," reads Bowman's arrest report, as cited by The Daily Caller.
In an interview with Capitol Police agents, Bowman recounted to the agents his actions: noticing signs on nearby doors that read "emergency exit only push to open," he pushed the door and inadvertently pulled the adjacent lever, which he assumed was the alarm.
Bowman asserted to the agent that he had no intention of activating a fire alarm or disrupting a congressional proceeding.
The agent noted in the warrant that there were clear indications next to the door stating "Emergency Exit Only," and the fire alarm itself was marked with "FIRE. Push in Pull Down."
Security footage showed Bowman trying to open both doors before activating the fire alarm and leaving the scene.
After he was charged, Bowman told Fox News he had reached a plea agreement with the prosecutors and was happy with the swift resolution of the matter.
He said his plea deal involved a $1,000 fine and a requirement to "stay out of trouble for three months."
He described the incident as a lapse in judgment, clarifying that it was not a deliberate attempt to commit a wrongful act.
"Congressman Bowman did not realize he would trigger a building alarm as he was rushing to make an urgent vote. The Congressman regrets any confusion," the congressman's chief of staff tweeted after the incident.