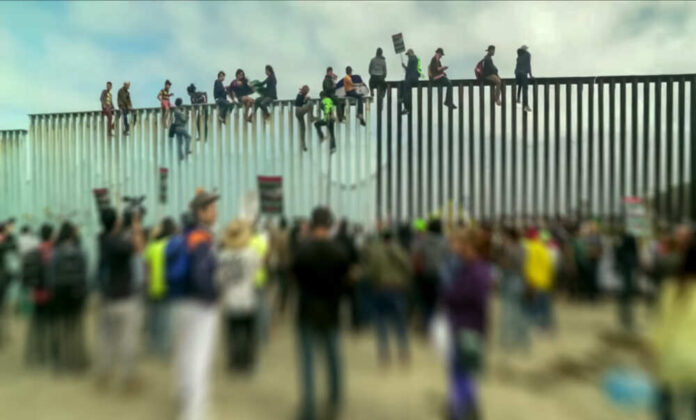 (ReclaimingAmerica.net) – In a new twist that would have been hilarious if it didn't stem from a massive crisis hurting America, NYC's leftist mayor has called for securing the border as his city is getting overwhelmed with illegal aliens.
The unexpected declaration by New York City Mayor Eric Adams, which sounded as though it came from a "far-right Republican," came after Texas GOP Governor Greg Abbott revealed how many illegal immigrants he had already bussed to Democrat-run jurisdictions.
"Texas has bused over 28,000 migrants to sanctuary cities to provide relief to our border towns," Abbott tweeted last week.
"Over 10,600 to DC, over 10,800 to NYC, over 4,500 to Chicago, over 2,000 to Philadelphia, over 390 to Denver, over 240 to LA. This mission will continue until Biden secures the border," the Texas governor added.
Abbott has been shipping off migrants to pro-Democrat cities and states claiming to be "sanctuary" places, i.e., ones openly violating federal immigration law to the benefit of illegal aliens.
In a press conference earlier this week, New York City Mayor Adams urged the Biden administration to do its job by imposing strict control on the US-Mexican border and giving federal aid to NYC since it's struggling to house tens of thousands of illegal immigrants.
"Eventually, this [is] going to come to a neighborhood near you," the leftist mayor declared, as cited by The Maine Wire.
"We need to control the border, we need to call a state of emergency, and we need to properly fund this national crisis," he added.
In October 2022, Adams issued an executive order declaring a state of emergency over the arrivals of migrants, which he recently extended.
In June, his administration announced it was seeking accommodations for over 46,000 illegal aliens and was even looking into a program for housing those in private homes.
In further testimony to the monstrous proportions of the NYC migrant crisis, last Thursday, Adams went to Washington, DC, together with House Minority Leader Hakeem Jeffries (D-NY) and other NYC members of Congress.
Adams and the NYC congressional delegation met with President Joe Biden's "woke" Secretary of Homeland Security, Alejandro Mayorkas, who has been actively aiding and abetting America's illegal immigrant invasion, to convince him to tackle the border crisis.
NEW: Texas governor Greg Abbott reveals he has bussed over 28,000 illegal immigrants to sanctuary cities like Washington DC, New York and Chicago.

After virtue signaling for years by calling their cities 'sanctuary cities', Democrats like NYC Mayor Adams are starting to sound a… pic.twitter.com/kedQqazXeh

— Collin Rugg (@CollinRugg) August 2, 2023