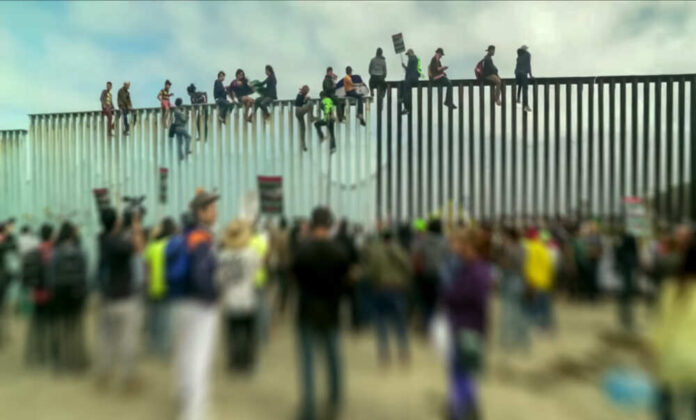 (ReclaimingAmerica.net) – As if it wasn't enough that, under Joe Biden, the nation is getting invaded by millions of Third World illegal aliens – it has now turned out that many of those openly infiltrating America come from Communist China, the leading US global enemy.
More than 7 million illegal immigrants from around the globe have entered the United States since Biden occupied the White House in January 2021. About 2 million of those have been gotaways who don't even get detained at the border.
The US Border Patrol has noted a significant increase in encounters with illegal immigrants from Communist China at the Southern Border, The Daily Caller reports.
Recent federal data reveals that these encounters surged by over 1,100%.
Specifically, the number of Chinese migrants attempting to cross the border illegally rose from 1,970 in the fiscal year 2022 to 24,048 in fiscal year 2023, as reported by the US Customs and Border Protection (CBP) agency.
In total, encounters with illegal immigrants at the southern border exceeded two million.
"Right now in China, there's extreme pessimism, especially among people in their 20s about the future of their country, so it's understandable that they're leaving and they're trying to get into the United States," commented Gordon Chang, an expert on China, regarding the new illegal immigration trend.
"And, you know, these are people who are relatively middle class, so it shows you the problems in Chinese society are severe," Chang added.
At the same time, there are concerns about the intentions of these migrants, with the expert also expressing his apprehensions.
"When I first saw that the surge in Chinese migrants, that's the thought that came to my mind that these are either Ministry of State Security agents or Chinese military, who are coming to this country to commit acts of sabotage against the US," he declared.
In June, Mark Green, the Chairman of the House Homeland Security Committee, indicated that he had evidence pointing to connections between some of the Chinese migrants and the Chinese Communist Party as well as China's People's Liberation Army (PLA).
"In terms of the verification that the individuals released into the United States have ties to the PLA came from a sector chief and I'll leave it with that at this point. We have a classified briefing coming up in the very near future," Green said at the time.